OUR TECHNOLOGY
---
At Lehigh Valley Pediatric Dentistry, our office strives to be a "fun" place for children of all ages. We have satellite radio throughout the office and flat-screen televisions on the ceiling for each dental chair. Therefore, patients can choose to either listen to music or watch a movie during their dental procedure.
HOW WE HELP
---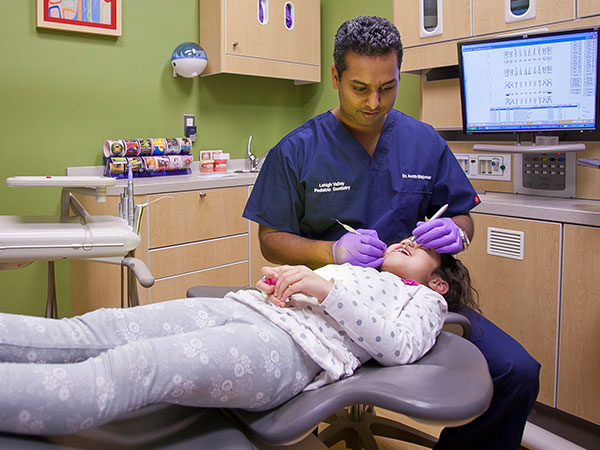 X-Rays
We use digital radiography (x-rays). There are a number of benefits with using digital x-rays. First, there is less radiation exposure to your child. In fact, there is about a 75% reduction in radiation with digital radiography as compared to conventional dental x-rays. Second, there is no chemical waste and therefore better for the environment. Third, digital x-rays can be easily sent via email to your child's referring doctor, an orthodontist, or other dental professionals, as needed for comprehensive dental treatment.
Charting
Our office is also virtually "paperless". This means that we do computerized charting. Computerized charting saves natural resources, creates less waste, and is also more efficient.
Sterilization
Our sterilization techniques are state-of-the-art and we utilize numerous methods to prevent cross-contamination to your child. Our autoclave sterilizer is the LISA, marketed by A-dec, Inc. and manufactured by W&H, and is a Class B medical-grade sterilizer.
Dental "Drills"
We also use electric handpieces (dental "drills"). Electric handpieces are much quieter and efficient as compared to the typical "drill", which we find to be what most children dislike about dental visits.
If you're looking for a pediatric dentist in your area, please give us a call to request your first appointment.