1At what age should my child visit the dentist?
The American Academy of Pediatric Dentistry recommends that a child's first visit to the dentist should occur by 12 months of age. This visit will enable Dr. Majumdar to evaluate your child and introduce you to proper oral hygiene. Diet, fluoride, finger and pacifier habits and tooth eruption will be discussed to insure optimal dental health.
2Why are "baby teeth" important?
Primary teeth have been labeled "baby teeth." However, the first tooth is usually lost around age 6 and some primary molars must remain in place until 12 or 13 years of age. Primary teeth are necessary for proper chewing, speech, development of the jaws and esthetics. Care of the primary teeth is important not only for proper function, but also to avoid a number of unpleasant conditions, such as pain, that result from their neglect.
3What guidelines will help children remain cavity free?
The American Academy of Pediatric Dentistry recommends:

• Brush with a fluoride toothpaste twice a day
• Floss once a day
• Visit your pediatric or general dentist regularly
• Get enough fluoride through drinking water, fluoride products and fluoride supplements, if necessary
• Have sealants applied to the chewing surfaces of permanent back teeth or molars
• Snack moderately- no more than twice a day.
4How important is a child's diet in the prevention of cavities?
Although a well-balanced diet is important in preventing cavities and to ensure good general health, cavities are not only the result of what children eat but also the frequency of meals. Frequent snacking without brushing leaves food on the teeth longer and increases the likelihood of a cavity developing. Additionally, frequent "sipping" on sugar-drinks (including juice and soda) in a baby bottle, "sippy" cup, or re-sealable bottle can cause widespread dental cavities.
5Are thumb, finger and pacifier habits bad for the teeth and jaws?
The majority of children stop sucking on thumbs, fingers, pacifiers or other objects on their own between two and three years of age without any harm being done to their teeth or jaws. However, children that repeatedly suck on a finger, pacifier or other object over long periods of time may cause the upper front teeth to tip toward the lip or not come in properly. Dr. Majumdar will carefully monitor the way your child's teeth come in and jaws develop. For most children there is no reason to worry about a sucking habit until the permanent front teeth are ready to come in, but it should be discouraged by the age of four.
6What can I do to stop my child's habit of sucking on objects?
The majority of children stop sucking habits on their own. Some children may need the help of their parents. When your child is old enough to understand the possible results of a sucking habit, Dr. Majumdar can encourage your child to stop and talk about what happens to the teeth if your child doesn't stop. Typically, this advice along with the support from parents, helps most children quit.
7What are dental sealants and who can benefit from them?
The chewing surface of children's teeth are the most susceptible to cavities and least benefited from fluorides. Sealants are adhesive coatings that are applied to the tops of teeth and can be very effective in preventing tooth decay. Current research has shown that 4 out of 5 cavities in children under age 15 develop on the biting surface of back molars. Molars are the most decayed teeth because plaque accumulates in the tiny grooves of the chewing surfaces. Sealants prevent the cavities that fluoride cannot effectively reach.
8What are composites (white fillings)?
Composites are used to restore fractured teeth and areas of decay. The shade of the restoration material is matched as closely as possible to the color of the natural tooth.
1What is Nitrous Oxide/Oxygen?
Nitrous Oxide (laughing gas) is breathed by your child with oxygen during the restorative appointment. It can be used to relax a mildly anxious child who is still cooperative.
2What are Space Maintainers?
A space maintainer is used to hold space for a permanent tooth when a baby tooth has been prematurely lost. If space is not maintained, teeth on either side of the missing tooth can drift into the space and prevent the permanent tooth from erupting.
3What is enamel fluorosis?
If a child is exposed to too much fluoride during the years of tooth development they may face the condition called enamel fluorosis. Too much fluoride can result in defects in tooth enamel resulting in white, yellow or brown splotches, streaks or lines, usually on the front teeth.
4Should I avoid fluorides all together for my child?
Definitely NO! Fluoride prevents tooth decay. It is an important part of helping your child keep a healthy smile for a lifetime. Dr. Majumdar can help determine the right amount of fluoride for your child.
5Do special children have special dental needs?
Yes. Some children with disabilities are more susceptible to tooth decay, gum disease or oral trauma. They may require medication, special diets, or possess oral habits detrimental to dental health.
6What are athletic mouth protectors?
Athletic mouth protectors are soft plastic mouth guards made specifically for your child's teeth. They protect the teeth, lips, cheeks and tongue. They can help protect children from such serious head and neck injuries as concussions and jaw fractures. Any mouthguard works better than no mouthguard therefore select one that is comfortable to wear. You can buy mouthguards in sports stores that are pre-formed or "boil-and-bite." Alternatively, Dr. Majumdar can make customized mouth guards. While they may cost a little more, they are more comfortable and more effective in preventing injuries.
7Why is oral health important when you are pregnant?
Now that you are pregnant, it is more important than ever to take better care of your teeth and gums. During pregnancy you will experience significant changes, including changes in your oral health. "Pregnancy gingivitis" is a condition that commonly occurs in the second or third month of pregnancy and can become more severe through the eighth month. The hormonal changes that occur during pregnancy may cause a greater reaction to dental plaque, resulting in an increased amount of swelling, bleeding and redness of the gums.
8What can you do to protect oral health during pregnancy
Since your oral health has implications that directly affect your pregnancy, it is extremely important to pay close attention to the signs of gum disease. Dental professionals recommend having more frequent dental cleanings. It is very important to maintain a proper daily oral care routine, including brushing and flossing. If tenderness, bleeding or gum swelling occur at any time during your pregnancy, see your general dentist or dental hygienist immediately.
9What are Stainless Steel Crowns?
Stainless steel crowns are silver colored "caps" used to restore teeth that are too badly decayed to hold fillings, need a nerve treatment, or when durability is a concern.
Office policies
Please call the office at least 24 hours in advance for appointments or cancellations.
---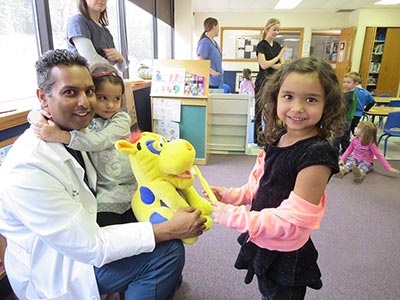 Appointments
Your scheduled appointment is reserved specifically for your child. Any change in this appointment effects all of our patients. If a cancellation is unavoidable,
please call the office at least 24 hours in advance so that we may give that time to another patient. If 2 broken/missed appointments occur, or there are 2 cancellations without 24-hour notice, our office reserves the right to NOT schedule any subsequent appointments. Also, if you arrive 10-15 minutes late for your appointment, you may be asked to reschedule for the next available appointment time.
All restorative (filling, extraction, etc.) procedures are scheduled in the morning hours. Children tend to do better in the morning for these types of procedures. Treatment appointments are much easier when your child, the doctor, and staff are fresh. Recall (cleaning and check-up) appointments are made six months in advance for your convenience.
We strive to see all patients on time for their scheduled appointment. We make every effort to stay on schedule. Keep in mind we run on children's time, not adult time. Therefore, there are times when our schedule is delayed in order to accommodate an injured child or an emergency. We will provide you the same courtesy if your child is in need of emergency treatment. If you have to wait more than 15 minutes, please ask our staff the reason for the delay.
Plan to arrive 10 minutes or more before your scheduled appointment to complete any paperwork.
A parent or legal guardian (with official documentation) must be present in the office during the initial examination and/or any filling appointments.
Fees & Insurance
We are happy to help with handling insurance claims and answering your insurance questions. If you have dental insurance, we will work with you and your insurance company to obtain the benefit. We submit claims for many carriers and, if possible, accept assignment of benefits. Any unpaid insurance balance will be your responsibility as services are rendered.
When scheduling your appointment, please let us know your insurance information. Also, be sure to bring the information with you for your appointment. We recommend that you contact your insurance company ahead of time to make sure you understand your coverage as dental insurance benefits can be confusing. If you are uninsured, payment is expected in full for each appointment as services are rendered. We accept cash, personal checks, MasterCard, or Visa. Should you have further questions concerning fees, payment, or insurance, please do not hesitate to call our office.
Post-operative instructions
Please contact our office at (610) 694-0711 if you have any problems relating to your child's treatment.
Care of the Mouth after Local Anesthetic
Please monitor your child closely for approximately two hours following the procedure. It is often wise to keep your child on a liquid or soft diet until the anesthetic has worn off. Often, children do not understand the effects of local anesthesia, and may chew, scratch, suck, or play with the numb lip, tongue, or cheek. These actions can cause minor irritations or they can be severe enough to cause swelling and abrasions to the tissue. Please be very careful that your child does not bite at his/her cheek or pick at this area. Please do not hesitate to call the office if there are any questions.
Extraction Post-op Instructions
• The gauze needs to stay in place with biting pressure for 20 minutes. This will reduce the amount of bleeding. Give your child the appropriate dose of children's Tylenol, Motrin or Advil when you take the gauze out (NO aspirin). Your child should only need this for approximately 12 to 24 hours.
• If pain persists beyond 48 hours, please call our office.
• Your child should eat only soft, bland food for the first couple days, nothing sharp, crunchy or too hot or cold because the area may be a sensitive.
• Encourage plenty of liquids (water, soups, juices, etc.). Let your child determine when a regular diet can be reintroduced.
• No spitting or drinking through a straw or "sippy" cup. The force can start the bleeding again.
• A clean mouth heals faster. Gentle brushing around the extraction site can be started immediately along with warm salt water rinses (1/4 teaspoon to a glass of water) to aid with any discomfort.
• Activity may need to be limited. Sometimes a nap is a good idea.
• Swelling after an extraction is not uncommon and should not cause alarm. If this occurs, apply an ice pack for 15 minutes on and 15 minutes off as needed in the 24 hours following tooth removal.

• Your child's cheek, lip and tongue will be numb for approximately 1-2 hours. Please be very careful that your child does not bite at his/her cheek or pick at this area. As this area "wakes up" it may feel funny. A self-inflicted bite injury is the most common post-op complication. Please keep on eye on your child!
• If you have any questions or should any complications arise, please call the office.
Care of Sealants
Your child should refrain from eating ice or hard candy. This tends to fracture the sealant. Normal retention of a sealant is up to four years. By forming a thin covering over the pits and fissures, sealants keep out plaque and food, thus decreasing the risk of decay. Since, the covering is only over the biting surface of the tooth, areas on the side and between teeth cannot be coated with the sealant. Good oral hygiene and nutrition are still very important in preventing decay next to these sealants or in areas unable to be covered.
Oral Discomfort after a Cleaning
A thorough cleaning unavoidably produces some bleeding and swelling and may cause some tenderness or discomfort. This is not due to a "rough cleaning", but to tender and inflamed gums from insufficient oral hygiene. We recommend the following for 2-3 days after cleaning was performed:

• A warm salt water rinse 2 - 3 times per day (1 teaspoon of salt in 1 cup of warm water).
• For discomfort use Children's Tylenol, Advil, or Motrin as directed for the age of the child.
If you're planning on visiting our office and have not yet filled out the necessary paperwork, please download, complete and print and bring these forms to your appointment.
Notice and Consent
Lehigh Valley Pediatric Dentistry wants you and your child's visit to be both educational and enjoyable. Therefore, we request that you read this Consent and Notice Form carefully. This form is meant to provide information on some of the routine procedures we perform.
---
Notice of Privacy Practices (HIPPA)
We are required by applicable federal and state law to maintain the privacy of your health information. We are also required to give you this Notice about our privacy practices, our legal duties, and your rights concerning your health information.
---
Medical History Information
We highly recommend that you print and complete this detailed form out prior to visiting our office.
---
Financial Policy Form